Special Sausage
Our characteristic sausage made by our very own carefully balanced recipe. It's soft texture will make it irresistible on the first juicy bite, and its endless combinations will make it an indispensable to your shopping list for the family.
A variation of this is the Special sausage. A variation of our original recipe with added texture, made from more selected parts of pork of a higher quality. Bold yet sweet flavours and aroma emerge when cooked.
Method of Preparing and Serving
Serve lightly grilled.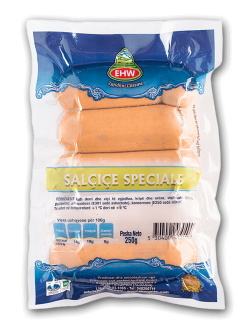 Parings
BAGUETTE

MAZONNAISE & MUSTARD

VEGETABLES

CHEESE
Ingredients
Selected Pork and Veal, natural salt and spices, stabilizer, antioxidants, preservatives.