Parizier
Our most popular salami recipe, An already popular traditional salami for children, but preferred by adults as well.
Method of preparing and serving
Serve cold thinly sliced or lightly warmed on the frying pan.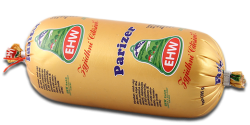 PARIZIER
Parings
A Parizier slice gives value to an antipasti dish. Even more delicious is when consumed in a warm sandwich. Try it on a pizza to enhance and bring together its flavour.
Ingredients
Selected Pork and Veal, natural salt and spices, stabilizers, antioxidants, preservatives.